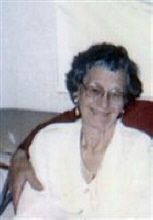 Obituary for Adele C Frank
Mrs. Frank 89 passed away peacefully on Tuesday December 20, 2011 at Mid-Michigan Medical Center. She was born in Ripley, TN on August 30, 1922 to the late Walter Lynn & Tissure Clapp. She was a longtime resident of Pontiac, Michigan before her loving husband Wilbur retired and they moved to Gladwin where they have lived for the past 31 years. Adele and Wilbur have been married  for 63 years. After that many years Wilbur always sat with his arm around Adele. Adele was a wonderful and loving wife and mother to her two daughters, Margaret & Paul Birch and Martha &Gayle Evans. She was blessed to have a granddaughter Tammy  Curtis and a grandson Jason Evans. She also has five great grandchildren Angyl, Austin, Neveah, Kylie and Emma. She was predeceased by a sister Floy Reeves and a brother Walter Lynn Clapp.
Funeral Services will be held 2:00 P.M. Thursday  December 22, 2011 at Sisson Funeral Home with Pastor Tony Reynolds presiding with burial in McClure Cemetery. Friends may call at the funeral home on Thursday from 12 noon until time of services. Those wishing an expression of sympathy are asked to consider the American Cancer Society.
Read More