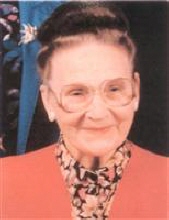 Obituary for Alna Mae Brown
Alna Mae Brown
Gladwin, Michigan

Mrs Brown, 96 passed away Wednesday September 19, 2012 at Gladwin Nursing & Rehab Center following a brief illness. She was born in Gladwin on May 6, 1916 to the late Stanley & Gertrude (Hetherington) Breault. She married Clarence Brown on September 26, 1936 in Gladwin and he preceded her in death on July 7, 2007. Alna enjoyed to weaviing rugs, quilting and spending time with her grandchildren. She was a member of the Gladwin United Methodist Church.
She is survived by 2 daughters Wanda & Jerry Oard and Lorna Brown; 2 grand children Julie & Mike Shearer and Gary & Melody Oard; 7 great grandchildren and 6 great great grandchildren; a brother Wilbur J. & Frieda Breault; 3 sisters Coral Brokoff, Vivian Breault and Donna Matthews. She was predeceased by brothers and sisters Ethel Nickless, William Breault, Frank Breault, George Breault, Nellie Grey , Ralph Breault and Esther Marian Klein.
Funeral services will be held Saturday September 22, 2012 at 1 pm from the Sisson Funeral Home with Rev Dave Amstutz presiding with burial in McClure Cemetery. Friends may call at the funeral home on Saturday from 10 am until time of services. Those wishing an expression of sympathy are asked to consider the wishes of the family.

Visitaion is on Saturday from 10 am until 1 pm.
Funeral services are at 1 pm from Sisson Funeral Home.