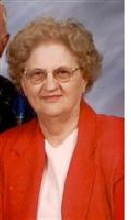 Obituary for Arlene R. Wolpert
Arlene R. Wolpert, age 83, of Beaverton, MI, passed away on Saturday, February 12, 2011 at the Gladwin Nursing and Rehabilitation Center.  She was born August 31, 1927 in Saginaw, MI, the daughter of the late Emil and Emma (Baumgartener) Schindler.
Arlene married Glenn G. Wolpert on June 28, 1947 who preceded her in death on February 15, 2009.  She enjoyed reading and spending time with her family.
She was also preceded in death by 2 brothers; Ralph and Norman Schindler.
She left behind 3 children, Connie Northrup of Houghton Lake, MI; Gerald (Bethany) Wolpert of Cherokee, NC and David (Barbara) Wolpert of Beaverton, MI.  7 grandchildren and 8 great grandchildren.  Several nieces and nephews.  2 Sisters; Jane Lingel of Sebewaing, MI and Carol Konsdorf of Bridgeport, MI.
Funeral services will be held on Tuesday, February 15, 2011 at 1:00 P.M. at the Sisson Funeral Home, Gladwin, MI with Pastor Paul Metzger officiating.  Visitation will be held on Monday, February 14, 2011 from 2-8 PM at the funeral home.  Interment will be in Dale Cemetery, Beaverton, MI.
In lieu of flowers memorial contributions may be made in memory of Arlene to Good Shepherd Lutheran Church.  1600 Dale Rd., Beaverton, MI 48612.
Read More