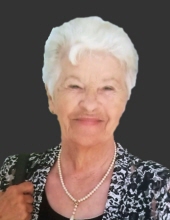 Obituary for Beverly J. Roberson
Beverly J. Roberson
Gladwin, Michigan
Mrs. Roberson, age 83 passed away on January 20, 2019 at her home surrounded by her family. She was born in Flint on October 11, 1935 to the late Ralph & Alice (Hale) Allen. She married Duane Roberson on November 5, 1955. She will be dearly missed by her husband of 63 years, Duane and their children a daughter Christy & Andy Gary, a son Duane Jr. & Joan Roberson and a daughter Michelle & Scott Evensen. She is also survived by 10 grandchildren and 15 great grandchildren. She was preceded in death by her parents, a daughter Gloria Lloyd and a son Ralph Roberson.
A Celebration of Her life is planned for 1:30 PM, Sunday, February 3, 2019 at the Sage Township Hall, Gladwin, Michigan. Arrangements are entrusted to Sisson Funeral Home.
Read More