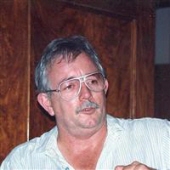 Obituary for Brian James Gillespie
Brian J. Gillespie

Gladwin, Michigan

Mr. Gillespie 68, passed away Tuesday October 16, 2012 at Mid-Michigan Medical Center-Gladwin following a sudden heart attack. He was born in Portland, Oregon on March 27, 1944 to the late James & Josephine ( McCanne) Gillespie. He married Jane Guysayko on May 17, 1986 in Chicago, IL., she survives him. He was a member of Sacred Heart Catholic Church, Harrison Moose Lodge and the Gladwin Eagles. He was the owner and operator of Double G Electrical Company and the Double G Ranch.  Brian will be remembered by family and friends as a man he enjoyed helping them. He enjoyed hunting, the out of doors and riding his motorcycle.

He is survived by his loving wife, Jane, of 26 years, son Jonathon & Sun Guysayko-Gillespie and daughter Marrietta & Ray Vivera; grand children Armanda & Luisa; brothers David & Maryanne Gillespie and Keith Gillespie and a host of loving nieces, nephews and friends. 

Family will greet family & friends at the Sisson Funeral Home on Saturday, October 20, 2012 from 4 to 8 pm and Sunday from 12 noon to 8 pm. A Vigil Service will be held at 7:30 pm Saturday evening with Rev. Fr. John Cotter presiding. A funeral mass will be held on Friday November 2, 2012 in Escondido, California with burial in Oak Hill Cemetery Escondido, CA. Those wishing an expression of sympathy are asked to consider the family's wishes or a charity of your choice.


Saturday 4 to 8 pm
Sunday 12 noon to 8 pm
Vigil service at 7:30 pm SaturdayFuneral Mass November 3, 2012 in Escondido, California.