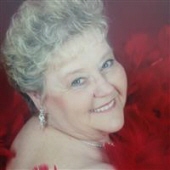 Obituary for Caroline Betty Alexander
Caroline Betty Alexander

Mt. Morris, Michigan

Mrs. Alexander 75 passed away Sunday September 27, 2015 at in Fenton, Mi following a brief illness. She was born in Clare on January 14, 1940 to Albert & Vergiline (Bouchey) Myers. She enjoyed helping people as she worked as a retail clerk in many stores over the years. She will be remembered for her love to dance and her long conversations on the phone with family and friends.

She is survived by her children John Davis Sr., Don Davis, Cheryl & Jimmy Coleman and Jodi & Carey Coleman; 6 grandchildren and 5 great grandchildren; 2 sisters Sandy Rich and Mary Ann James. She was preceded in death by her father Albert Myers and 2 brothers John Myers and Kent Myers.

A family Celebration of Her Life will be held at a later date with inurnment in River Lawn Cemetery, Rosebush, Michigan. Arrangements were entrusted to Sisson Funeral Home.


Family services at a later date with burial in River Lawn Cemetery.
Read More