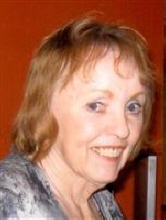 Obituary for Carolyn Ann Dull
Carolyn Ann Dull
Cape Coral, FL
Formerly of Gladwin, MI

Mrs. Dull 68 passed away peacefully Tuesday May 29, 2012 at Hope Hospice Center in Cape Coral, FL following a lingering illness. She was born in Detroit on March 13, 1944 to the late William & Marjorie (Gott) McMillan. She married Raymond S. Dull on November 7, 1964 in Detroit. He preceded her in death on January 2, 2007. They lived in Gladwin before moving to Cape Coral Florida 1997 and were members of Sacred Heart Church.
She is survived by a daughter Victoria Dull and grand daughter Ashley Dull & fiancee` Blake Fricker ; a niece Linda Bingham of Dearborn: a nephew Steven Huggins of Oklahoma and many foster children. Funeral Mass will be celebrated Tuesday June 5, 2012 at 10 am from Sacred Heart Catholic Church with Rev. Fr. John Cotter presiding with burial in Sacred Heart Cemetery. Friends may call at Sisson Funeral Home on Monday from 4 to 8 pm. On Tuesday Mrs. Dull will lie in state at church from 9 am until time of services. Arrangements are entrusted to Sisson Funeral Home.  

Visitation on Monday from 4 to 8 pm and Tuesday at the church from 9 to 10 am with Mass at 10am from Sacred Heart Catholic Church.
Read More