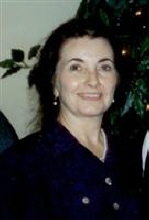 Obituary for Caroyln I. Swanstra
Carolyn I. Swanstra, age 63 of Gladwin, MI, passed away on Saturday, October 8, 2011 in Beaverton, MI.  She was born April 11, 1948 in Gladwin County the daughter of Orville and Irene (Emmendorfer) Oard.
Carolyn loved spending time with her children and family.  She also enjoyed taking pictures, dancing, flowers, spending time in the outdoors and visiting with friends.  She was the caregiver for her mother.
She was preceded in death by her father Orville Oard and sister Cherlyn Oard.
She is survived by her children, Jeff Swanstra of Gladwin, MI and Gregg Swanstra of Gladwin, MI.  Brother, William (Darlene) Oard of Gladwin, MI.  Sisters, Cathryn Loar of Beaverton, MI; Cheryl Oard of Flint, MI; Cynthia (Charles) Simmons of Alma, MI; Patricia (Dick) Oard-Moore of Midland, MI; Pamela Oard of Granger, IN and Barbara (Scott) Buckley of Danville, VA.
Funeral services will be held on Thursday, October 13, 2011 at 11:00 A.M. at the Sisson Funeral Home with Pastor Tony Reynolds officiating.  Visitation will be held on Wednesday, October 12, 2011 from 2-8 P.M. at the funeral home and again on Thursday from 10:00 A.M. until the time of services.
Read More