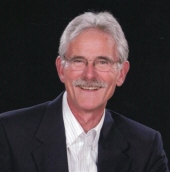 Obituary for Charles Swan II
Charles "Chuck" Swan
Mr. Swan, 62, of Gladwin, Michigan, passed away suddenly Wednesday, December 10, 2014 at Mid- Michigan Medical Center in Gladwin. He was born in Battle Creek, Michigan in 1952 to the late Charles & Frances (Naramore) Swan.  Chuck married the former Kathie Baldini on June 25, 1977 in Negaunee, Michigan. Chuck graduated from Michigan Tech University with a BS Degree in Forestry.  He was a veteran of the U.S. Army, owner and operator of MCI Aquatics of Gladwin, and a member of the Sacred Heart Catholic Church where he enjoyed serving in the Ushers Group.
Chuck's love was relaxing and enjoying quiet time on Drummond Island with friends from the Drummond  Island Club. His memory will be cherished by his loving wife Kathie and his children: Charles Joshua (Jessica Engwis-Swan) Swan and Jessie Alexandra (Eric Borcherding) Swan, M.D. He was preceded in death by 2 brothers: Richard & Edward Swan.
Funeral Mass will be celebrated Saturday, December 13, 2014 at 11 am at the Sacred Heart Catholic Church in Gladwin, with Rev. Fr. John Cotter presiding.  Inurnment will take place at Northland Chapel Cemetery in Negaunee, Michigan. The family will receive friends at the church on Saturday from 9 am until time of Mass. Those wishing to make an expression of sympathy are asked to consider Michigan Tech University Forestry Department. Arrangements are entrusted to Sisson Funeral Home.

Visitation will be on Saturday, December 13, from 9am until 11am at the Sacred Heart Catholic Church.  A funeral Mass will immediately follow the viewing.