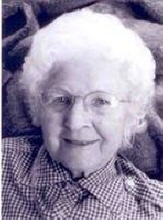 Obituary for Clara Caroline Peterson
Clara Caroline (Seltz) Peterson, age 89, of Midland, MI passed away on Sunday, January 31, 2010 at Stratford Village Nursing Home in Midland.
She was born to John and Florence (Kinyon) Seltz in Secord Township, Gladwin on December 21, 1920.

Caroline attended Elmgrove Elementary School in Secord Township and graduated from Gladwin High School in 1940.

She married Harry A. Peterson in November 1942. They lived in Detroit where Caroline worked as a cosmetologist for Cunningham's Drug Store.

When the couple retired in 1969, they moved to Secord and enjoyed several years in the country. After her husband died in 1986, Caroline moved to Antler Arms apartments in Gladwin. She was a lifelong member of the Missouri Synod Lutheran Church and attended Our Savior's Lutheran Church after she moved to Gladwin.

Caroline enjoyed music and sang in the church choir for years. She also liked to play piano, read, crochet, and was active in community affairs. She served on the Gladwin County Library Board and was a willing volunteer for any activity that needed help.

She is survived by a brother John Marc (Mary Jane) Seltz of Pottersville, two sisters Mary Kathleen (Charles) Sorg of Midland and Julia Santrello of Dayton, Ohio, and a brother-in-law, Paul Miller, of Memphis, Tennessee. She is also survived by many nieces and nephews, including John Sorg of Midland, Charlene Rosin of Midland and Joellen Thompson of Grand Rapids.

Caroline was predeceased by three sisters, Catherine and Grace, who died in childhood, and Joy Miller; and a brother Richard James (RJ) Seltz.

Cremation has taken place and no services are planned. Caroline's ashes will be buried next to her husband's at Fort Custer National Cemetery in Battle Creek. Arrangements were entrusted to the Sisson Funeral Home, Gladwin, MI.
Read More