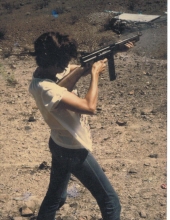 Obituary for Connie Ailene Nettleton-Mora
Connie Ailene Nettleton-Mora
"The Lady Painter"
Gladwin, Michigan
Connie passed away peacefully at home surrounded by her four daughters Heidi, Gretchen, Rachael and Jessica; grandsons Gaven "Gaveneito", Ethan "Beef" and Chandler "Tigercito" ; granddollies Cecilia & Serenity. She requested no services. She will be rocketed to space at a later date. Thank you to all the family and friends for your thoughts and prayers. Peace, Nonnie. Arrangements are entrusted to the Sisson Funeral Home.
Read More