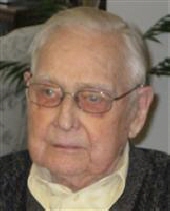 Obituary for Dolliver Block
Dolliver Block, lacking only 20 days of being 100 years old, went home to be with his Lord and Savior on Tuesday, November 9, 2010.  He was born in California, Missouri on November 29, 1910.  Dolliver accepted the Lord as His personal Savior when he was 13 years old.  He married Leola Cuddie on September 15, 1935 at Skeels Baptist Church, Gladwin, Michigan. Leola preceded him in death in October 2001. When first married, they lived in Detroit, Michigan where he worked as a meat cutter. Two years later they returned to Gladwin where he shared ownership of a meat and grocery store.  Dolliver then bought a farm where he mainly raised chickens and sheep until he was 72 years old.
 
While farming, Dolliver was active in the Farm Bureau serving as president at one time; Gladwin County school board; the Gideon's International; deacon at church; taught Sunday school classes for 50 years; and was Butman township supervisor for 17 years. Dolliver was always a faithful witness for our Lord.
 
He is survived by four children: Rev. Duane and Margie (Henderson) Block, Dale and Joyce (Miller) Block, Rev. Donald and Patricia (Townsend) Block, and Darla and Rev. Jeff Williams.  He had 13 grandchildren and 31 great grandchildren.  Dolliver was a dedicated father and grandfather, and loved his family very much.
 
The service of praise and thanksgiving for the gift of eternal live through Christ for Dolliver will be held Monday, November 15 at 11 a.m. at Sisson Funeral Home, Gladwin, Michigan with Rev. Carl Briggs and Dr. George L. Coon officiating.  Visitation will be held on Sunday afternoon November 14, from 3 p.m. to 7 p.m. at the funeral home.  Interment will be in Butman Township Cemetery.
 
Memorial gifts may be given to Bibles International (for Bible Translation) 609 36th St., Grand Rapids, Michigan 49548, or to Gideon's International.
Read More