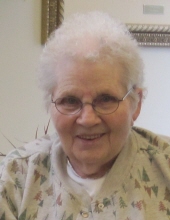 Obituary for Dolores Ruth Ford
Dolores Ruth Ford, age 95, passed away at the Gladwin Pines Nursing Home on May 12, 2017. She was born the second child of nine, on December 28, 1921 at their family home on Oberlin Road in Gladwin to the late Adolph and Augustina (Birkholz) Wolfe. After completing 10 years of schooling at Sherman #2 School, she attended Gladwin High School where she graduated in 1938. She attended Houghton College in Houghton, New York before moving to Detroit where she worked for many years before moving back to Gladwin to marry the love of her life.
Dolores married Max G. Ford on October 13, 1951 in Angola, Indiana. They shared their life together for 40 years, raising two children together, Charles (Charlie) and Carol. Max preceded her in death in 1992.
Dolores will be remembered for her dedication to her family, her church, friends, work and the numerous hobbies she enjoyed. From the time she was carried to church by her parents, serving the Lord had always been a focus of her life. As a young person, before the start of evening services she would walk to church to build a fire in the furnace. As an adult, she sang in the choir, taught Sunday school, held many church offices, worked in the nursery, worked in the AWANA program and completed missionary projects for the Women's Missionary Fellowship. For many years, she would write weekly notes to the church members who would go away for the winter – keeping them in touch with what was happening back home. She was a talented letter writer, sending many notes and letters around the world. She was a charter member of Gladwin Cornerstone Baptist Church.
She managed Mutual Savings and Loan (now Chemical Bank) for 13 years, helping many with their banking needs. Her various hobbies included being a member of many different bowling leagues, doing jigsaw puzzles, word searches, cheering for the Detroit Tigers, collecting anything with a cardinal bird, knitting, crocheting, sewing, gardening, fishing, birdwatching and spending time at the family cottage in Canada on Lake Superior.
After retiring from banking, she turned her attention to helping watch her four grandchildren: Cory and Patrick Barz and Stephanie and Ashley Ford. Her love for family was shown in the many hours she dedicated to attending their school functions, sporting events and spending quality time with them.
She is survived by her son Charlie Ford, daughter Carol (John) Darlington, grandchildren Cory (April) Barz, Patrick (Daina) Barz, Stephanie Ford, Ashley Ford, great grandchildren Max and Lilly Barz, Jericho and Addilyn Barz, and Braxton Ghent. Her surviving sisters include Mildred Wolfe, Viola (Larry) Giegler, Joan (Allan) Rau, sister in-laws Eleanor (Stanley) Wolfe and Yvonne (Gordon) Wolfe. She was preceded in death by her sisters Loraine Wolfe, and Margaret Wolfe, brothers Norman Wolfe, Stanley Wolfe, and Gordon Wolfe.
Her family finds comfort in knowing she is reunited with her husband and family members that have gone on before her to be with their Lord. The poem, Legacy of Love, encapsulates what Dolores has left for those she loved to treasure:
A wife, a mother, a grandma too,
This is the legacy we have from you.
You taught us love and how to fight,
You gave us strength, you gave us might.
A stronger person would be hard to find,
And in your heart, you were always kind.
You fought for us all in one way or another,
Not just as a wife not just as a mother.
For all of us you gave your best,
Now the time has come for you to rest.
So go in peace, you've earned your sleep,
Your love in our hearts, we'll eternally keep.

Funeral services will be held at 11 am from Cornerstone Baptist Church with Pastor Scott Bradstreet officiating with interment to follow at Highland Cemetery. Visitation will be held on Monday, May 15 at Sisson Funeral Home in Gladwin from 4 PM to 8 PM and on Tuesday at the church from 10 AM until the time of service. Those wishing an expression of sympathy are asked to consider the Gladwin Cornerstone Baptist Church.
Read More
Previous Events
Visitation
Lee-Ramsay Funeral Home-Gladwin Chapel
135 N. Silverleaf
Gladwin, MI 48624
Visitation
Cornerstone Baptist Church
3925 Roud Lake
Gladwin, MI 48624
Service
Cornerstone Baptist Church
3925 Roud Lake
Gladwin, MI 48624
Cemetery Details
Location
Highland Cemetery
Buzzel & Cemetry Sts.
Gladwin, MI 48624