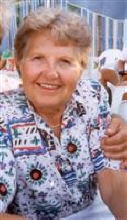 Obituary for Edna Grove
Edna M. Grove, age 83, of Gladwin, MI, passed away on Monday, October 18, 2010 at The Brook Retirement Community in Gladwin.  She was born on January 3, 1927 in Detroit, MI, the daughter of the late Daniel and Emma (Schultz) Russell.
Edna enjoyed riding bike, sewing and was an avid Detroit Tiger's fan.
She was preceded in death by her husband Holland Grove and Brother Otto Russell.
She is survived by her children; Danny (Tammy) Grove of Midland, MI;  Morris  (Judy) Grove of Gladwin, MI;  Suzanne (Jim) Crusen of Freeland, MI; Diane (Tom) Mienk of Gladwin, MI and Roxanne (Tim) Schulz of Houghton, MI.  11 grandchildren and 6 great grandchildren.  Step brother Roy (Charlotte) Russell of Gladwin, MI and step sister Barb Friesen of Clark Lake, MI.
Funeral Services will be held on Thursday, October 21, 2010 at 11:00 A.M. at the Cornerstone Baptist Church with Pastor Tony Alexander officiating.  Visitation will be held on Wednesday, October 20, 2010 from 4-8 P.M. at the Sisson Funeral Home, Gladwin, MI.  Interment will be in Ridge Cemetery.
Memorial contributions may be in memory of Edna to the Cornerstone Baptist Church.
Read More