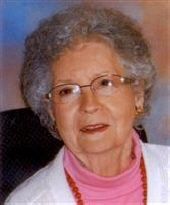 Obituary for Eleanor J. Davis
Eleanor Jean Davis of Gladwin Pines, Gladwin, previously of Sanford and Midland went home peacefully to be with the Lord on Friday, November 22, 2013 with her family by her side.
Born July 29. 1927 in Downington, (Deckerville) Michigan although her parents John (Jack) and Marion (Howard) Marks lived in Port Huron at the time. After 4 years the family relocated to Bad Axe where she was raised and graduated from Bad Axe High School. She was baptized in the Baptist faith in Bad Axe.
Eleanor worked for Michigan Bell right out of High school until her marriage to Lonnie Harvey Davis July 13, 1946 in Bad Axe following the end of World War II. She later worked for Altman Management as Office Manager for 8 years in Midland and Flint along with her husband before retiring to Sanford Lake. Lonnie predeceased her on October 4, 2006 after 60 years of marriage.
Surviving children are Barbara (Paul) McGowan of Waterford, Connie (Gale) Pretzer of Hemlock, Jeffrey (Janice) Davis of Marysville, Ohio and Judy (Steve) Earls of Coleman.
Grandchildren: Jennifer (Ted) Wickman, children Brandon, Hannah and Lauren, Kimberly (Jim) Hernandez, children Logan and Alexus all of Fort Walton Beach, Florida, Mark (Bree) Witzak and daughter Aria of Lansing, Jon (Gretchen) Davis and daughter Zoe of Ida, Christopher Earls of Coleman, Andrew (Candace) Earls and children Kayla and Noel of Gladwin.
She is survived by one brother Lloyd (Carmen) Marks of Rose City and brother-in-law Joe Davis of Holly, sister-in-law Barbara Davis of Bruce, Wisconsin, and sister-in-law Barbara Davis of Menomonie, Wisconsin. Also surviving are many nieces and nephews.
Mom loved her family which grew over the years and the great times we had at Christmas and family get-togethers. Mom was an excellent cook and her banana bread, homemade fudge and chocolate chip cookies were loved by all. There were many nights when the grandkids would arrive at the lake house and announce "I'm home" as they headed upstairs to their chosen bedrooms much to Grandpa and Grandma's delight. She was also an avid reader enjoying historical stories and many other types of writings. And what a great fan of the Detroit Tigers, she seldom missed a game. Mom was a loving, giving, wonderful person and will be greatly missed.
Funeral Services will be held at 2:00 pm on December 1, 2013 at the Sisson Funeral Home with Pastor Scott Bradstreet officiating. Visitation will begin at 1:00 pm until the time of the service. Inurnment will take place at Great Lakes National Cemetery Holly at a later date.
Those planning an expression of sympathy may wish to consider The Gladwin Pines Activity Dept., Hospice of Midland or the Wounded Warrior Program.

Sunday December 1, 2013 at 2pm from Sisson Funeral Home
Friends may call from 1 pm until time of services.
Read More