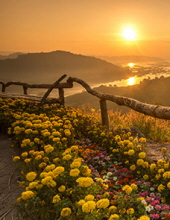 Obituary for Ella J. Miller
Ella J. (Mast) Miller
Gladwin, Michigan
Mrs. Miller 90 years 2 months 18 days passed away May 11, 2018 at her home following a lingering illness. She was born February 23,1928 in LaGrange, Indiana to the late Janas & Mary (Yoder) Mast.
Survivors are her husband Levi J. Miller whom she married December 15,1949 in LaGrange, Indiana their children Mary married to Melvin Weaver , Wilma married to Amos Beechy , Melvin married to Polly Petersheim, Edna married to Amos Weaver, Ervin married to Edna Petersheim, Katie married to Harvey Mast, Alma married to Perry Petersheim-Deceased, Joe married to Orpha Hostetler, Ora married to Rachel Yoder and Amos married to Miriam Beechy; 90 grandchildren; 96 great grandchildren and brothers Albert Mast and Abe Mast. She was preceded in death by her parents, 3 sisters, 4 brothers, a daughter and 2 granddaughters.
Funeral services were held Tuesday May 15, 2018 at the family's home in Gladwin Michigan with burial in Hillside Amish Cemetery, Gladwin. Arrangements by Sisson Funeral Home, 135 N. Silverleaf, Gladwin, Michigan.
Read More