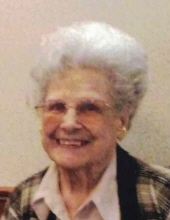 Obituary for Fay Maxine Lind
Fay Maxine Lind passed away peacefully in her home on July 25, 2018 at the age of 93.
She was born to Carl and Nellie Blume in Lansing, Michigan on July 7, 1925. She was
a resident of Hope, Michigan – enjoying friends, family, church family and her view of
the water from her Wixom Lake home since the 70s.
Maxine is survived by her son, Ken, his wife Donna, her three grandchildren, Matthew
Lind (Jenn Luttman), Stephen Lind, and Jennifer Lind Tracy (Gaemia), and two great
grandchildren, Koltyn Luttman and Arthur Tracy. She was predeceased by her
husband, Orbie Lind Jr. in 1994, and her son, Kevin Lind in 1964.

Maxine and Orbie met when at a church function in Lansing. The two were later
married and began their family, taking annual family trips to Lake Superior to search for
elusive swirled agate stones. Her family carries on that beloved tradition still.

Maxine was an accomplished oil painter and enjoyed displaying her painted china on
the craft show circuit. She was very involved in teaching Sunday School, Junior Church
and many will remember her wonderful Christmas Programs she wrote and directed at
Billings Missionary (now Bible) Church in Albright Shores. She was also a friendly,
familiar face to clients of the family-owned Lind & Lind Insurance Agency here in
Gladwin for many years.

A steadfast believer, Maxine will be remembered for her faith in her Savior, her
unending love for her family, and her disdain for the few bunnies that would eat the
flowers in her yard.

Per her wishes, there will be an informal farewell service for her Saturday, July 28
at 11:30 at Chapel Hill Memorial Gardens in Lansing. If you wish to gift a memorial,
please consider her long time friend and missionary, Jane Powley, World Venture, B.P.
1229, 21000 Thies, Senegal (www.WorldVenture.com ). Thank you.
Read More
Cemetery Details
Location
Chapel Hill Memorial Gardens
4444 West Grand River
Lansing, MI 48906