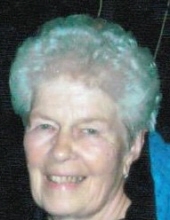 Obituary for Georgia M. Krisfalusi
Georgia Marie Krisfalusi

Sugar Springs / Gladwin, Michigan

On June 10, 2017, Georgia Krisfalusi passed away after years of battling Parkinson's Disease. For sixty-five years she was the devoted wife of Charles "Kris" Krisfalusi who preceded her in death almost exactly seven months prior. She was also an unbelievable mother and role model, a caring grandmother and joyous great-grandmother.
Born in Hazel Park, Michigan and a Pershing High School graduate, Georgia met the love of her life while working at the local movie theater while still in high school. Soon afterward, she and Kris married and they began traveling the world, compliments of the the United States Air Force. Married in San Antonio, Texas, they lived in Ankara, Turkey; Alexandria, Virginia; Wiesbaden, Germany; Sacramento, California and in 1969 they settled in Arlington, Virginia, while Kris served at the Pentagon. With her infectious smile and love of her family, Georgia was a selfless spirit. Although a disciplinarian, Georgia taught her children family values and how to manage the challenges the world throws at you. She was a neat freak, to say the least, and instilled that compulsive behavior onto her children – a trait they joked with their mother about, but now embrace and cherish. Georgia stayed home and raised their children until they were back in Arlington, where she decided to join the workforce. After Kris suffered a heart attack in 1975, she began researching healthy lifestyles using vitamins and herbal supplements. This led to the opening of Super Nutrition Shoppe, Bailey's Crossroads Virginia, in 1977, a business she ran for 21 years before retiring and moving to Sugar Springs, Michigan in 1998. Georgia worked so hard and couldn't wait to relax and FINALLY take up golf! It helped that her brother and sister both lived on the same street in Sugar Springs, along with a community of loving and supportive neighbors! She and Kris hosted the Fourth of July Annual Family Reunion and Golf Tournament with her "Smith" side of the family for the last several years. She missed out during her "HealthFood" years, but made up for lost time. She loved getting the family together; laughing, competing (she was a fierce competitor), the fun games, making & eating great homemade food and especially the banter that was ever present with her crazy family. It was a special time for her that she always looked forward to with anticipation.

Georgia is survived by her children Charlie, Pam (Jamie), Alan (Mark) and Alex. She is also survived by her grandchildren Tyler (Juliana), Laura (Keith), Mitchell, Ethan, Danielle, great-grandson Brenden (another one on the way in early November) and her sister Mae. She is preceded in the afterlife by her husband Kris (as mentioned earlier).

A Memorial Service will be held on Saturday, June 17, 2017 at Sisson Funeral Home, 135 North Silverleaf Street, Gladwin MI 48624. The immediate family will greet extended family and friends from 12noon to 1pm, with memorial services beginning immediately afterward. Based on Georgia's wishes, she will be buried with her husband in Arlington National Cemetery in Virginia, as the proud wife of a veteran…date to be determined.

In lieu of flowers, those wishing to offer an expression of sympathy are asked to consider The Gladwin Nursing & Rehabilitation Community in Gladwin, Michigan, where she spent the last eight and a half months under care of their loving and dedicated staff.
Read More
Previous Events
Visitation
Lee-Ramsay Funeral Home-Gladwin Chapel
135 N. Silverleaf
Gladwin, MI 48624
Service
Lee-Ramsay Funeral Home-Gladwin Chapel
135 N. Silverleaf
Gladwin, MI 48624
Cemetery Details
Location
Arlington National Cemetery
Internment Services
Arlington, VA 22211