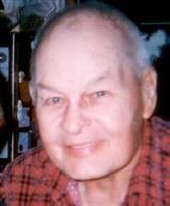 Obituary for Harold R. Martin
Harold R. Martin
Clare, Michigan

Mr. Martin 89 passed away Saturday September 29, 2012 at the Isabella County Care Facility following a lingering illness. He was born in Detroit on May 26, 1923 to the late Elmer C. & Elizabeth (Kotal) Martin.
He married Marguerite Ann Peterson in Detroit on May 28, 1948. She preceded him in death on October 1997.
He was a veteran of the U. S. Army serving during WW II and was retired from Kux Manufacturing in Detroit.
He is survived by a daughter Luanne Auyon; 2 grand children & 4 great Grandchildren; a brother Robert Martin of Hastings. He was predeceased by a daughter Dawn Martin.
Funeral, Committal and Military Honors will be held Friday October 5, 2012 at 11 am from Christ the King Lutheran Church, Gladwin with Pastor David Sprang presiding with burial in Ott Cemetery, Clare. Friends may call at the church from 10 am until time of services.

Friday October 5, 2012 at Christ the King Lutheran Church
Visitation from 10 am until services at 11 am.