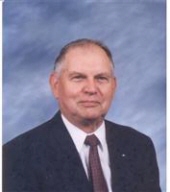 Obituary for James Howard Matthews
James Howard Matthews, age 83, of Gladwin, MI, passed away on Tuesday, June 29, 2010, at the Gladwin Nursing and Rehabilitation Center.  He was born June 21, 1927 in Flint, MI, the son of the late Howard E. and Rose E. (Muma) Matthews.
Jim moved to Gladwin, MI in 1941.  He married Donna Lee Breault June 28, 1952 in Gladwin.  He retired from Dow Corning in 1988 after 36 years of employment. He was a member of the Masonic Lodge #392 F & AM, The Scottish Rite Consistory, 50 + year member of the Mid Forest Lodge.   He and Donna loved to travel including several trips to Alaska and a mission trip to Zimbabwe.  Jim was Active in County and Township Politics and active member at the First United Methodist Church.  He enjoyed watching CMU Football, The Detroit Tigers, deer hunting; and working on the never ending job of improving animal habitat on his property.  He was always there to help someone in need and be a behind the scenes supporter of making the community a better place to live, be it Gladwin or somewhere else in the world.
He was preceded in death by a sister Jean Kipple and a toddler brother, Harley.
He is survived by his wife Donna Matthews of Gladwin, MI; children, Keith (Lee Ann) Matthews of Gladwin, MI; Douglas (Tonya) Matthews of Gladwin, MI and Janice (Mark) Docherty of New Baltimore, MI.  5 grandchildren, Jon (Lynn) Matthews of St. Clair Shores, MI; Nicole and Daniel Matthews of Gladwin, MI; Jenna and Ella Docherty of New Baltimore, MI.  Great Granddaughter Mallory Matthews of St. Clair Shores, MI.  Brother Darwin (Sally) Matthews of Hope, MI; Sisters, Onalee Bailey of Flushing, MI and Joyce Entreken of Flushing, MI. several nieces and nephews and many many friends.
Funeral Services will be held on Friday, July 2, 2010 at 1:00 P.M.  At the First United Methodist Church, Gladwin, MI with Pastor David Snyder officiating.   Visitation will be held on Thursday, July 1, 2010 from 2-8 P.M. at the Sisson Funeral Home and again on Friday at church from Noon until the time of services.   A Masonic service being held at 7:00 P.M. on Thursday at the funeral home.   Interment will be in McClure Cemetery.

Memorial Contributions may be made to the Henderson Settlement or to the Food Pantry at the Sacred Heart Misson.
Read More