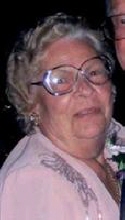 Obituary for Janice Mae Hillman
So, ends the final chapter in the life of Janice Mae Hillman. Otherwise known as "Jan" to family and friends or simply "Mom". She was predeceased by her husband Guy Hillman and eldest son, Larry.
Jan was born of John and Lena Linton 0n April 19, 1924 and raised in Gladwin, MI the youngest of 7 children. Siblings: Minnie Stickel, Elmer, George, Johnny, Henry, Roy and Earl Linton also past.

She raised her own family of 8 with husband, Guy Hillman also of Gladwin. She is survived by 7 of her children: Sonja Erway, Sherryl & Mick Stitz, Bill Hillman, Eric & Peg Hillman, Skip Hillman, Tammy & Steve Wuelfing, and Jeff & Deb Hillman.

Jan was a business member of the community as a local beauty shop owner and operator since 1965 leaving in her path many beautiful ladies. She was loved by most who knew her, but nothing and nobody stood between her and her kids. She was a pillar of strength. Known by some of her granddaughters as their "Glitter Grandma", she loved flashy jewelry, glitz and glimmer and music. Having been a guitar player and singer, she passed on her music talents to many of her children.

Jan is survived by 7 kids, 24 grandkids and 21 great grandkids. Also survived by her wonderful companion and best friend is Kent Rice. Kent Rice also raised in Gladwin came back into her life from her past 10 years ago. She was always so proud to announce that he was her very first love back when she was a teenager. He, along with her kids have been her "lifeline". She will be greatly missed, but we know she's in a better place.

Funeral Services will be held on Thursday, March 25, 2010 at 11:00 A.M. at the Beaverton Church of the Nazarene with Pastor Mark Moore and Pastor Ann Meyer officiating. Visitation will be held on Wednesday, March 24, 2010 from 2-9 P.M. at the Sisson Funeral Home. Interment will be in Ridge Cemetery.
Read More