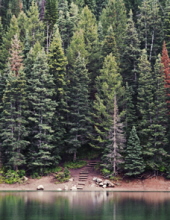 Obituary for Johnnie "Jack" C. Lennon
Johnnie C. Lennon passed away quietly Tuesday, May 9, 2017. He was born one of 12 children to Matthew and Edna (Breault) Lennon on August 29, 1923. He is survived by his beloved sister Dorothy Wagar of Gladwin.
For 33 years Jack worked at Dow Chemical Company in Midland, but always called Eaton Road home. After retiring, Jack got his "dream job" at the Woods. There, he would plant more trees, trim trees, brush hog roads through the trees and even pull weeds around the trees. His "woods" was first owned by his grandfather Nicholas Lennon and remained first and foremost on his list of things to do and a place to go. He found great comfort there.
Jack had five children, 3 sons and 2 daughters. His youngest son passed away at age 17 on July 2, 1976 in a tree cutting accident. Three of the remaining children married and gave Jack 7 grandchildren and 3 great-grandchildren.
A quiet service conducted by Pastor Tony Reynolds was held Friday, May 12 2017 at Sisson Funeral Home. Mr. David Ramsay saw to it that Jack's pre-arranged funeral provided his green casket, with burial in his family plot at McClure Cemetery next to his farm that he lived on his whole life. Sorrow and pain is over-He's home.
Read More
Events
Cemetery Details
Location
McClure Cemetery
Cemetery Rd.
Gladwin, MI 48624