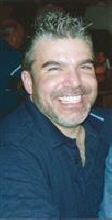 Obituary for Kelly J. Gronda
Kelly J. Gronda passed away on Saturday, October 10, 2015 at the age of 47 after a courageous 4-year battle with cancer. Kelly worked for Central Michigan University Health Care since 2010 as a Billing Credentialer. Kelly had his own graphic design business for many years and created the car decals for Midland High School and Northeast Middle School giving back a portion of the profits to help support the Booster Clubs. Kelly was also a DJ since the late 1990's and worked at Mr. M's for years as well as many weddings, graduations, and Christmas parties. Kelly truly loved his music and was one of the best DJ's around. One of Kelly's passions since childhood was softball and he never let his eyesight slow him down. Kelly played softball until 2007 when he could no longer play the game he loved. The University of Michigan and The Detroit Lions lost one of their biggest fans as Kelly never gave up on either team and enjoyed going to the games with friends and loved ones. He had hoped to watch the Wolverines play under the new Michigan head coach Jim Harbaugh, which luckily, he did get to see.


Kelly was born October 19, 1967 in Saginaw, and was the son of Everett "EJ" and Carolyn "Lyn" (Mills) Gronda. Kelly grew up and lived most of his life in Gladwin. He married the former Carolyn Traver in August of 2008 and she survives him along with stepdaughters, Jennifer Hedgepath (Jessie) of Chapel Hill, TN, Nicole, Alecia, and Alexis Traver of Midland and step grandson, Grady Hedgepath of Chapel Hill, TN. Kelly is also survived by his Father and Stepmother, EJ Gronda and Linda Gronda of Gladwin, his Mother-in-law and Father-in-law, Phyllis and Clyde Brothers of Green Valley, AZ, Stepbrother Brian (Amanda) Johnson, Stepsisters, Jessica Johnson, and Melissa (Scott) Hughey, along with 2 step nieces and 4 step nephews. Kelly also leaves behind two dear cousins, Craig and Jeff Gronda and special friends, Jeff Volmering, Katy Bredeweg, and Mary Mawhorter. Kelly also leaves behind his beloved dogs Maizie and Teddy. Kelly was pre-deceased by his Mother, Carolyn Gronda, sister, Augusta Gronda, grandparents, Floyd and Vivian "Boots" Gronda and his Uncle Charlie Gronda, along with his special guide dog Irma.


At Kelly's wishes, cremation has taken place. A Celebration of Life service will be at the Emmanuel Baptist Church in Gladwin on October 24, 2015 at 11:00 am with Pastor Joe Dorias presiding. Family will receive friends and family at the church from 10:00 am until the time of the services.



Celebration of Life Service will be held at 11:00 AM on October 24, 2015 at Emmanuel Baptist Church, 3089 W. Pratt Lake Rd., Gladwin, Michigan.