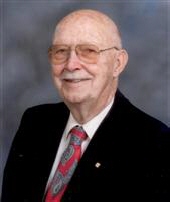 Obituary for Kenneth D. Kerswill
Kenneth D. Kerswill, age 86, of Gladwin, MI, passed away on Wednesday, May 12, 2010 at the Gladwin Nursing and Rehabilitation Center.  He was born January 17, 1924 in Gladwin, MI the son of the late Lyman L. and Ethel E. (Foutch) Kerswill.
Ken lived in Gladwin his entire life.  He was the Gladwin Postmaster for 28 1/2 years.  He worked at Dow Chemical for 7 years.  He was a member of GAFT for 25 years, Gladwin Rotary Club for 55 years where he had a perfect attendance, Gladwin Masonic Lodge #397 F&AM for 33 years where he was the past Worship Full Master and also the Mason of the year for the State of Michigan, Elf Khurafeh Shrine Center of Saginaw and the Consistory Valley of Bay City, MI.  He also volunteered at Gladwin Meals on Wheels and the Gladwin Hospice.  He was known as the Gladwin Historian and his memories and stories will live on forever.
He was preceded in death by his parents and Brother Lewis Kerswill.
He is survived by his niece Valerie (Mike) Wells of Ramsay, MI.  3 Great Nephews, Matthew, Jeffery and Brendan.
Funeral Services will be held on Saturday, May 15, 2010 at 11:00 A.M. at the First United Methodist Church in Gladwin, MI, with Pastor Dave Snyder officiating.  Visitation will be held on Friday, May 14, 2010 from 2-8 P.M. at the Sisson Funeral Home with a Masonic Service held at 7:30 P.M.  Interment will be in Highland Cemetery.
Memorial contributions may be made in memory of Ken to GAFT located at 1000 W. Cedar Ave., Gladwin, MI 48624.  Envelopes will be available at the funeral home.
Read More