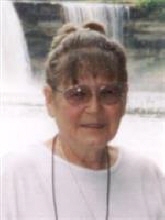 Obituary for Lee Ann Cronk
Lee Ann Cronk
Gladwin / Secord Lake, Michigan

Mrs. Cronk 73 passed away suddenly Friday July 26, 2013 at Mid-Michigan Medical Center-Gladwin following a lingering illness. She was born in Gladwin on April 18, 1940 to Ralph & Esther (Searfoss) Boman. She married James (Jim) Cronk on March 21, 1959 in Gladwin, he preceded her in death in December 2012. Lee Ann was a lifetime resident of the Secord Lake area, retired from Parkway Plastics of West Branch and a member of the Big Boys Club.

Surviving are her children Amy Jo & Thomas Schmidt, Thomas James Cronk, Susan Lee (Fred Leeck) Brown and Jodi Ann (Chris Wiggins) Cronk; 9 grand children Joleen, Jason, Jessica, Steven, T J, Misty, Angela, David and Tonya; 9 great grand children; her mother Esther Mae Rimminger; a brother Dan (Kim) Boman, step brother Eugene (Caroline) Rumminger; a sister in law Patty Boman-Lee. She was preceded in death by her father Ralph Boman, 2 brothers Teddy Boman and William Boman.

Funeral Services will be held Tuesday July 30,2013 at 1 pm from the Sisson Funeral Home with Pastor James Beck presiding with burial in Highland Cemetery. Friends may call at the Funeral Home on Monday from 1 to 8 pm and Tuesday 11 am until time of services. 


Monday 1 to 8 pm    
Tuesday 11 to 1 pm
Services Tuesday at 1 pm Sisson Funeral Home.