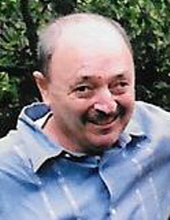 Obituary for Lloyd Tommy Mitchell
Lloyd Thomas Mitchell - Always happy a caring family Man and artful, soulful
dancer.
Lloyd Thomas Mitchell, 68 of Grand Haven, Mi, passed away with family near and
dear to him on the evening of July 11, 2016.
Born on June 4th, 1948 in Franklin, Kentucky, Tommy – as he was affectionately
called was just settling into a new residence on the West side of the state. His last
six weeks of constant visits were a blessing.
His two sons – Shannon Clifton, his wife Lis and their three girls in Grand Haven and
Lloyd Andrew II, his wife Angela and an expected first child in Holland, survive him.
Plus the daughter who stole his heart survives him; affectionately know by him as
Mouse by her father, and her five children in Lansing, Michigan. As the oldest child
his mother and four of five siblings, and their families also survive him.
Lloyd Thomas spent the majority of his professional career as a lab manager, and
inspector of alcohols and meat products for the State of Michigan government in
Lansing.
He received his Bachelor of Science Degree in Biochemistry, from Valparaiso
University in 1970, and graduated in 1966 from Flint Kearsley High School.
Tommy was a soulful folk guitar player, who loved early Rock-n-Roll and the blues.
His slick feet and artful, soulful, rhythmic movements on the dance floor took second
to no one not even Elvis or James Brown. "Just Like Me" by Paul Revere and the
Raiders was his best song to play and sing.
The greatest love of Lloyd Thomas was going beyond dance and music, was his
family. From an early age as a Big Brother to his years as Dad and Grandpa and
Uncle and Friend, Tommy shined bright and warm loving on all with his soft grin
and warm smile. It was just like Lloyd to always radiate compassion and optimism
on to everyone around him.
Lloyd Thomas Mitchell – Oldest Son, Brother, Father, Uncle and then Grandpa will be
celebrated forever by his loved ones.
Read More
Previous Events
Visitation
Lee-Ramsay Funeral Home-Gladwin Chapel
135 N. Silverleaf
Gladwin, MI 48624