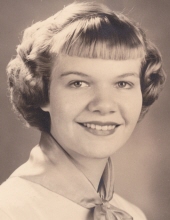 Obituary for Margaret C. Hopewell
Margaret C. Hopewell
West Branch, Michigan

Margaret Claudette Hopewell, age 85 years, passed on to be in the arms of her Lord and Savior on Tuesday, November 20, 2018. She was born March 3, 1933 in Sullivan, Indiana to Augustine & Genevieve (Padgett) Strange and was the youngest of 12 children. She graduated from Sullivan High School. She married Floyd A. Hopewell, Sr. on January 3, 1952 in Ozark, Alabama. Margaret and Floyd and the family moved from Sullivan to Plymouth Illinois in 1963 and then moved to West Branch in 1970. Margaret worked for a few years at Norman's in West Branch and then later was employed for several years at the Bortz Nursing Home in West Branch as the activities director. She very much enjoyed being able to help the elderly have a more meaningful life. After retirement, Margaret and Floyd enjoyed 20 winters in Ft. Myers Beach, Florida where she spent numerous hours walking the beach with her metal detector not only looking for buried treasure but also helping those looking for their lost articles inthe sand. Margaret was a Cub Scout Den mother and past member of the American Legion Women's Auxiliary in Plymouth, Illinois. She enjoyed family visits, oil painting, going to casinos, and playing bingo.

Margaret was preceded in death by her husband Floyd, her parents, her 2 brothers - Emanuel and Emil, and her 9 sisters - Lucile, Clara, Victoria, Pauline, Ellen, Irene, Theresa, Mary, and Patricia, 3 grandsons - Chad Hopewell, and Shawn and Shane Klimaszewski. She is survived by her 3 sons, Floyd Jr. aka Jay & Jan Hopewell of Middleville, MI, Mark & Mary Hopewell and Daniel & Colleen Hopewell, all of West Branch, grandchildren Marlana & (Christopher) Kucharek of Grayling, MI, Martin & (Dara) Hopewell of WestBranch, Matthew Hopewell of Middleville, and Aaron Klimaszewski of Alger, MI, great grandchildren Lizzie, Ethan, and Emma Kucharek of Grayling, and Emmett and Marie Hopewell of West Branch, and numerous cousins, nieces, nephews and special friends.
Per Margaret's wishes, her body will be donated to science with cremation taking place for the remains. No funeral service is planned. Burial will be at a later date.
The family would like to give a special thanks for all the care Margaret received while a resident at the West Branch Horizon Senior Living facility and from the Campassus Hospice staff of West Branch.
In lieu of flowers, memorial contributions can be made to the St. Joseph Catholic Church of West Branch or charity of your choice.
Assistance with arrangements was provided by Sisson Funeral Home in Gladwin, MI. On-line condolences can be shared at www.sissonfuneralhome.com.
Read More
Events