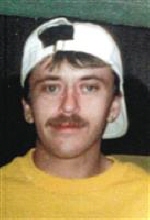 Obituary for Mark Little
Mark Ernest Little 41, passed away Friday August 21, 2015 at home after fighting a lifelong battle with illness. Mark was born in Flint, Michigan on August 28 1973 to the late James E. Little and Mary Elizabeth (Olmstead) Little. Mark moved to Gladwin in 1981 and attended Gladwin schools. Mark enjoyed spending time with family and his many friends.

Mark is survived by his mother Mary of Gladwin, sister and brother-in-law Carrie and Jason Croutch of Gladwin, brother James E. Little of Mt. Morris, nieces Krystal and Kristen Little of Mt. Morris, Katrina Croutch and Myah DeLaCruz of Gladwin, nephews Dean Little, James Mitchell, Tristan Mitchell, Jason Croutch, Cameron Croutch, Cody Walton and Chaz DeLaCruz of Gladwin, great niece and nephews Tabetha and Trenton Little and Tucker Croutch of Gladwin. His best friend Shannon DeLaCruz along with many more close friends.

A memorial service celebrating Mark's life will be held at 2:00 PM on Friday August 28, 2015 at the Sisson Funeral Home with Pastor Tony Reynolds officiating. Visitation will begin at 12:00 PM until the time of service.


A Funeral Service will be held on Friday, August 28 at 2 PM.  Visitation will begin at Noon until the time of service.