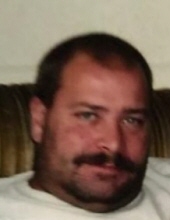 Obituary for Michael S. McEown
McEown, Michael Shawn
January 10, 1968 - April 29, 2019

Mike passed away in Midland, MI on April 29, 2019, aged 51. He resided in Gladwin, MI with his wife Shelly and beloved dog Ginny. He leaves to cherish his memory, his daughters Shannon Benjamin (Allen) and Katelyn McEown; his twin sister Corinne Teusch (Cris); his grandchildren J, Madison, Sienna and Rory; nieces and nephew. Mike will be welcomed by his brother Aaron McEown, mother Barbara McEown, and bonus mom Barbara Glady.

For most of his life, Mike was an explorer, a builder, a hunter and fisher. He enjoyed sunsets on the lake (any lake, really) and cooking something better than anything he could order. He had a passion for the forest and its creatures, and often had a few stray raccoons that may or may not have had names. He loved good beer, a good steak, and good tunes. He told it like it was but dreamed about what could be.

Mike wished to keep it simple. Rather than mourn his absence, the family will celebrate his life this summer, in his preferred fashion at home on the lake, barbeque and bonfire to follow. Memorials may be made to the wishes of the family.
Read More