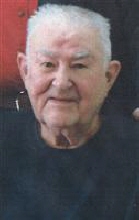 Obituary for Pastor David E. Dee
Pastor David E. Dee, age 87, of Glennie, MI, went to be with his Lord and Savior on Monday, May 2, 2011 at the West Branch Regional Medical Center.  He was born October 12, 1923 in Detroit, MI, the son of the late Emerick and Bertha (Fanchal) Dee.

David was a World War ll Veteran of the United States Army Air Corps.  He was a Top Ball Turret-Gunner on a B-17 bomber.  He was the last of 2 survivors that was shot down.  He received Air Medal W/1 OLC Purple Ribbon, W/10LC ETO Ribbon, 2 Bronze Stars.  Soldier missing in action on July 13, 1944 over Southern Germany in a B-17G Plane No. 42-1 2433 while on a heavy bombardment mission and was a prisoner of war during the last year of the war.  He was a Baptist Minister and pastored various churches in Clarkston, MI; Windsor, Ontario,  McBain, MI; Alpena, MI and Curran, MI over the course of 55 years.

He was preceded in death by his sisters Helen Smith, Ruth Hubert and Virginia Garrett; Son-In-Law Pastor Ron Scott.

He is survived by his wife Betty Dee of Glennie, MI.  Children, Pastor David (Karen) Dee of Glennie and Karen Scott of West Branch, MI.  3 Grandsons, Emerick (Janelle) Dee, Jerram (Kristen) Dee and Robert (Jessica) Scott. 6 great grandchildren, Connor, Piper, Brayden, David, Karah and Zachery.  Brother George Dee of Knoxville, TN.

The family wishes to express a special Thank You to Bortz Health Care of Rose City, MI, for the wonderful care that was given to David.

Funeral Services will be held on Wednesday, May 4, 2011 at 1:00 P.M. at the Lott Baptist Church , 4257 S. State Rd. on M-65 in Glennie, MI with Pastor David R. Dee officiating.  Visitation will be held from 11:00 A.M. until the time of services.  Interment will be in Glennie Cemetery.

Memorial contributions may be made in memory of David to the Christ Our Life Church in Curran, MI.
Read More