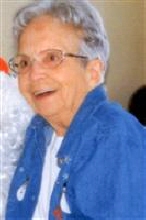 Obituary for Phyllis A. Nemyer
Phyllis A. Nemyer, age 84, of Gladwin, MI, passed away on April 28, 2011 at the Mid-Michigan Medical Gladwin Pines Nursing Center.  She was born December 1, 1926 in Springborough, Ohio the daughter of the late Howard and Lorene (Warrick) Metcalf.
Phyllis enjoyed spending time with her family, playing cards and board games.  She was a lifetime member of the Order of Eastern Star, Commerce, MI.
She was preceded in death by her husband John H. Nemyer and Son Jeffrey Nemyer.
She is survived by her children, John (Kathleen) Nemyer of Gladwin, MI and Joaan Desvousges of Alabama.  Brother John Wagner of Miamisburg, Ohio and Sister Jane Weaver of Sarasota, Fla.  6 grandchildren and 6 great grandchildren.
In accordance with Phyllis's wishes cremation will take place and there will be no public services held at this time.  Arrangements were entrusted to the Sisson Funeral Home, Gladwin, MI.
In lieu of flowers the family suggests memorial contributions may be made in memory of Phyllis to the Good Shepherd Christian Fellowship Church, 284 Norway St., Gladwin, MI 48624.
Read More