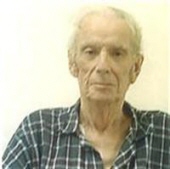 Obituary for Ritchey O. Newman
Ritchey O. Newman Jr., age 83, of Gladwin, MI, passed away on Thursday, February 3, 2011 at the Gladwin Pines. He was born on July 29, 1927 in Evanston, IL the son of the late Ritchey O. and Ruth (Winans) Newman Sr.
He grew up in Duluth, MN graduating from Central High School in 1944. He enlisted in the United States Navy where he served one year as a electronics technician. Using the G.I. Bill he attended the California Institute of Technology and graduated in 1951 with an engineering degree. He then worked for Douglas Aircraft in Long Beach, CA as a stress analyst. Too many years of overtime lead him to travel from California to Fairbanks, Alaska in an old mail truck he had converted into an RV which had a top speed of 35 MPH. He then returned to California and attended the Stanford University in the MBA program. As a part of the MBA program he spent a summer in 1956 in Seattle, WA working as a economic analyst for Boeing Aircraft this is where he met his future wife Nancy and were united in marriage on December 28, 1957 in Minneapolis, MN. He graduated from Stanford in 1957. He then started working for Dow Chemical Company in 1957 and retired from there in 1986 spending most of his time in Central Research and over the years he received more than two dozens patents. After his retirement he did some consulting and also participated in the Michigan retired engineers program to help company's reduce their waste and energy use.
He was preceded in death by his brother Robert Newman.
He is survived by his wife Nancy Newman of Gladwin, MI; 2 sons, Kent Newman of Ann Arbor, MI and Bill Newman of Minneapolis, MN.
In accordance with Ritchey's wishes cremation has taken place. A Memorial visitation will be held on Monday, February 7, 2011 from 4-7 P.M. at the Sisson Funeral Home, Gladwin, MI.
Memorial contributions may be made in memory of Ritchey to the Michigan Chapter of the Sierra Club, 109 E. Grand River Avenue, Lansing, MI 48906.
Read More