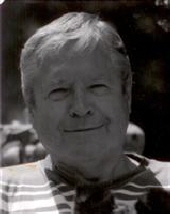 Obituary for Robert Lee Doede
Robert Lee Doede
Gladwin, Michigan

Mr. Doede 82 passed away peacefully on Tuesday July 17, 2012 at his home following a sudden illness. He was born in Detroit, Michigan to the late Herman & Violet (Behnke) Doede. Bob was a veteran of the U. S. Army serving in the Korean War. He was retired from GM- Pontiac Truck Plant and a member of the Cornerstone Baptist Church. Though Bob lived in Troy, MI with his family for most of his adult life, his childhood years and years of retirement were spent in Gladwin, the place he always called home. His family and friends remember him as fun-loving, hard-working, bull-headed yet good natured. His rough hewn charm and dry wit made him easy and comfortable to be around. A few of his favorite activities were fishing, gardening, listening to music, and quietly appreciating nature. Bob was known as a home handyman extraordinaire, who was capable of fixing everything, including marvelous meals. He was a faithful father whose love for his children flowed through his actions rather than words; however, his boundless love for his granddaughters, Rebecca Pen and Emma Doede, flowed freely. His brother Richard Doede passed away earlier this year, but his brother Ronald Doede and sister Joan Barth, his children Virginia Roth, Robert P. Doede, Jennifer Doede and his grandchildren will dearly miss him, and Janet Doede, his deceased daughter, will greet him in God's Kingdom. Funeral services and Military Honors will be held Saturday July 21, 2012 at 1 pm from the Gladwin Cornerstone Baptist Church 3925 Round Lake Rd. Gladwin, MI with Pastor Scott Bradstreet presiding with graveside services at Nooksack Cemetery, Nooksack, Washington. Friends may call at the Church on Saturday from 11 am until time of services. Those wishing an expression of sympathy are asked to consider the Cornerstone Baptist Church. Arrangements are entrusted to sis son Funeral Home

Saturday July 21, 2012 at Gladwin Cornerstone Baptist Church
Visitation from 11 am until 1 pm services.