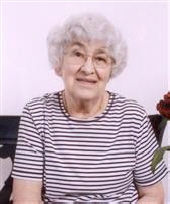 Obituary for Rosa Rhoades
Rosa Rhoades began her life as Rosa Szilagyi on November 9, 1921, in Bad Tatzmannsdorf, Austria, the daughter of Stephen and Josephine (Wolfel) Szilagyi.  She passed away on November 12, 2010, in Gladwin, Michigan.
 
Rosa immigrated to the United States via Ells Island, New York, at the age of 8 years.  She and her family settled in the Chicago area where she was placed in the second grade, unable speak or understand a word of English.  Her family eventually moved to Michigan, and Rosa graduated from Scottville high school where she met her future husband, Paul Rhoades.
 
Rosa married Paul on May 11, 1940.  Paul volunteered for the Army after the attack on Pearl Harbor, and their daughter, Linda, was born the following October.  During the war years, Rosa worked in Ludington and lived with a family friend.  As Rosa's mother was a remarkable cook and her father was a pastry chef, Rosa had the propensity for culinary expertise.  However, she always maintained she learned her skills from the friend in Ludington who opened her home and shared her kitchen as they waited for the war to end.
 
Several years after the war ended, Paul and Rosa moved to Indianapolis.  Their family now included a son, Ron.  Paul's brother, Von, also lived with them and, for the next three years, the five resided in a tiny travel trailer while Paul and Von attended Lincoln Chiropractic School.
 
After Paul's graduation from Lincoln, Rosa and Paul decided to make Gladwin their home.  Rosa became an integral part of the community and was active in the Gladwin Hospital Auxiliary, Women's Club, and St. Paul's Episcopal Church.  She was a familiar face at her children's school activities, eventually becoming a cub scout and brownie leader.  When her children were grown, Rosa worked in the billing department of the Gladwin Clinic and became an avid golfer.  She enjoyed playing golf well into her 80's.
 
Upon retirement, Rosa and Paul moved to Mason, Michigan, where they resided close to their son and daughter-in-law for the next 10 years.  After Paul's death, Rosa returned to Gladwin and resided at The Brook.
 
Rosa was preceded in death by here husband, Paul, two brothers, Albert and Stephen Szilagyi, a sister Mary Zachariason, brothers-in-law Von Edgar, and Ford Rhoades, Herman Zachariason, Bud Watson, and Dale Conklin, sisters-in-law Bernice Conklin, Joan and Marie Rhoades.  Also preceding her death were here daughter and son-in-law, Linda and Bill Sharp, granddaughter, Donna Thorington, and grandson, Matthew Rhoades.
 
She is survived by her sisters-in-law Vera Szilagyi, Neoma Watson, and Ruth Ann (Jim) King.  She is also survived by her son, Ronald (Jeanne) Rhoades, granddaughter Deborah (Jeff) Madison, grandson Jeff (Lisa) Rhoades, great grandsons, Bill (Charlotte) Sterzik, Scott and Luke Rhoades, great, great granddaughter Gracie Sterzik, and numerous nieces and nephews.
Funeral services will be held at St. Paul's Episcopal Church in Gladwin on Thursday, November 18, 2010 at Noon with internment at the Highland Cemetery in Gladwin.  Visitation will take place at the church one hour prior to the service.  In lieu of flowers, the family requests donations are made in Rosa's name to The Brook, 201 W. Cedar Avenue, Gladwin 48624 or Hospice of Helping Hands,335 E. Houghton Avenue, West Branch 48661.
 
Rosa was a kind and gentle woman who will be remembered for her love of family, her appreciation of beauty, her wonderful hospitality, her unselfish soul …. And the best darned pies we've ever tasted!
Read More