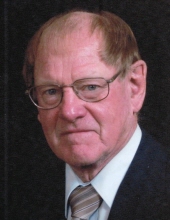 Obituary for Roy Howard Russell
Roy Howard Russell, a first-generation American, was born on November 24, 1934, to parents Anton and Pauline; joining sisters, Olga and Barbara. When Roy was nine, he began working on the farm when his father died. That began the work ethic for which Roy would become so well-known.
In 1956 Roy married Charlotte Gertz, the love of his life. Soon after their wedding, Roy was drafted and joined the army. Together they raised three children, Kevin, Kerri, and Kent. Roy loved his family and provided for them by becoming a master plumber; he had his own heating and plumbing business. Roy and "Charlie," as he called his wife, enjoyed spending quality time with their kids through boating, fishing, hunting, snowmobiling, camping and traveling. Over the past 15 years, Roy, along with his sons, grandsons, and even Christina once, made annual fishing trips to Canada where they enjoyed spending valuable time together.
Roy's greatest passion was his faith in his Lord and Savior, Jesus Christ. He did not consider himself a perfect man, but was striving to be more like Christ every day. He longed to be used by God to minister to those in need, and was very involved in volunteer missions. He went on several trips to under-privileged countries to use his construction skills to improve the lives of others.
Roy also cared deeply for those in his own community. He never turned away from someone in need, but did all he could to help. He volunteered his tme to help family, friends, and neighbors. It was his way of serving God.
Roy loved his church and rarely missed a service. He was a deacon and served on various committees within the church. He could often be found building or fixing something within the church building. He considered the congregation, "my people" and longed to be healthy enough to return to church services. However, he is now worshiping the Lord in person, and we rejoice with him.
Roy loved his little ones, and was thrilled to become a great-grandfather to Peyton Roy, Ace, Brady, Lincoln, and Lily. He treasured each of them, and though they, and those yet to come, will not be able to grow up being with him, we as a family will surely remind them of their Papa's intense love and wishes for them.
Roy rarely missed an opportunity to support his grandchildren's achievements. He dearly loved Brian, Justin (Amanda), Adam (Laura), Amy, Christina (Justin), Kelsey (Nathan), Keegan, Karson, Konner and Jordan. He tried to go to every sporting event, or school program in which they participated. They are all adults now, and the strong bond he developed with them can be plainly seen in their love and dedication to their "Gramps," "Papa" or "Papa Roy Boy." They enjoy spending time with him, and will greatly miss this man who has had such a godly influence in their lives. His greatest hope has been for each of them to live out their lives for the glory of God. As he stepped into Heaven, his oldest grandchild, Brian, surely embraced him and welcomed him into their heavenly home.
Roy's son, Kevin, and his wife, Rhonda; His daughter, Kerri, and her husband, Ivan; and his youngest son, Kent and his wife, Karm, will greatly miss this godly and loving patriarch of our family. We hope to make him proud by continuing the legacy which he began--to love one another, those God brings into our lives, and to serve the Lord with the strength He provides.
Roy will be most missed by his loving wife, "Charlie" who was his best friend and companion of nearly sixty-two years. We ask that others keep her in their prayers and reach out to her with love and compassion as she is now separated from the one who loved her most in this world.
Roy has had a great many close friends, the devoted love of his family, and God's hearty approval. What more could anyone want? We believe that the words he will hear from his Heavenly Father are, "Well done, my good and faithful servant."
Funeral services will be held at 11:00 AM on Monday, April 3, 2017 at Cornerstone Baptist Church with Pastor Scott Bradstreet officiating with interment to follow at Butman Township Cemetery. Visitation will be held on Sunday April 2, 2016 at Sisson Funeral Home from 12:00-7:00 PM and on Monday at the church from 10:00 AM until the time of service. Those wishing an expression of sympathy are asked to consider the Cornerstone Baptist Church.
Read More
Previous Events
Visitation
Lee-Ramsay Funeral Home-Gladwin Chapel
135 N. Silverleaf
Gladwin, MI 48624
Service
Cornerstone Baptist Church
3925 Roud Lake
Gladwin, MI 48624
Roy will lie in state at church from 10 am until services
Cemetery Details
Location
Butman Township Cemetery
Cemetery Rd.
Gladwin, MI 48624