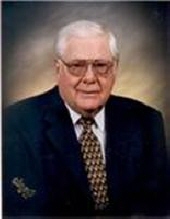 Obituary for Russell Sage
Russell R. Sage, age 84, of Gladwin, MI, passed away on Friday, December 24, 2010 at the Mid-Michigan Medical Center-Midland Campus. He was born October 19, 1926 in Battle Creek, MI, the son of the late J. Lyle and Margaret (Potter) Sage.
Russell was a Veteran of the United States Navy from 1944-1950 and then reenlisted in the United States Army Reserves from 1950-1953. He owned and operated TriKraft Printing in Lansing, MI from 1969-1983. He was a charter member of the Christ the King Lutheran Church in Gladwin. He enjoyed spending time with his family and friends, golfing, traveling, flying and pheasant hunting.
He was preceded in death by his brother Gerald Sage and sister Arlene Rounds.
He is survived by his wife of 59 years, Bernita Sage of Gladwin, MI; children; Jenice (Chuck) Momber of Brethren, MI; Paula Sage of Potterville, MI and Marcelyn (Bill) O'Brian of Lansing, MI. 4 grandchildren, Ben, Aaron, Tracy and Sean. Sister Wanda Priest of Battle Creek, MI.
Funeral Services will be held on Wednesday, December 29, 2010 at 11:00 A.M. at the Christ the King Lutheran Church with Pastor David Sprang officiating. Visitation will be held on Tuesday, December 28, 2010 from 2-4 P.M. at Sisson Funeral Home and again on Wednesday from 10:00 A. M. until the time of services at church. In accordance with Russell's wishes cremation will take place following the services.
Memorial contributions may be made in memory of Russell to Christ the King Lutheran Church.
Read More