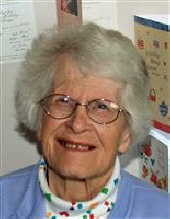 Obituary for Ruth Sarah Klassen
Ruth Sarah Klassen, 91, went home to be with her Lord on Friday, June 10,  at Brittany Manor in Midland following a lengthy illness.  She was born in Detroit on April 17, 1920 to Harry and Linda May (Flynn) Hager.

Ruth moved with her family to Yale in 1929 and then to Gladwin in 1931 where she lived in Butman Township until her marriage.  Ruth married Henry Klassen on July 4, 1937 in Butman Township and the couple made their home in Dearborn until 1942 when they returned to Gladwin.  She was the mother of six children.

Mrs. Klassen was a faithful member of the Gladwin Free Methodist Church.  She enjoyed working with her hands and loved to crochet and make quilts.  All of her grandchildren received quilts as wedding gifts.

Following the death of her husband, Ruth was cared for by her family, Rhoda's House of Midland, and Brittany Manor of Midland.

Ruth was proceeded in death by her parents Harry and Linda Mae Hager, her husband of 67 years, Henry Klassen, two sons Robert Klassen, and David and wife Billie Jeannine Klassen,  Two great-grandsons Jonathan Beardslee, and Nathaniel Bowen, one brother Robert (and Marion) Hager, and three sisters, Jean (and Max) Corlew, Shirley Corlew, and Bonnie (and Benjamin) Smith.

Ruth is survived by two sons and two daughters Shirley (Dale) Beardslee of Spring Arbor, Harold (Mary) Klassen of Midland, Harvey Klassen of Springport, and Carolyn Klassen of Gladwin, one sister Beverly (Wayne) Peters of Lakeland, Fl, and one brother-in-law John Corlew of Gladwin.  She has 12 grandchildren and 22 great-grandchildren.

Funeral services will be held on Wednesday, June 15, 2011 at 11:00 A.M. at the Gladwin Free Methodist Church, 1312 N. State St., Gladwin, MI, with Pastor Phillip Hortop officiating.  Interment will be in Butman Township Cemetery.  The family will receive visitors at the Sisson Funeral Home, 135 N. Silverleaf St., Gladwin on Tuesday, June 14, 2011 from 2-8 P.M. and again of Wednesday from 10:00 A.M. until the time of the service  In lieu of flowers, memorials may be made to the Gladwin Free Methodist Church.
Read More