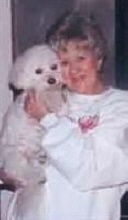 Obituary for Sharon Joy Gall
Sharon Joy Gall

Sugar Springs, Gladwin, Michigan

Mrs. Gall 70 passed away Sunday December 2, 2012 at her home following a lengthy illness. She was born in Central Lake Michigan on October 10, 1942 to the late Fred & Barbara (White) Clark. She married Louis Gall on Valentine's Day February 14, 1975 in Madison Heights. She enjoyed golfing, traveling with Lou, her crafts and her stain glass decorations.

She is survived by her husband of 37 years, her brothers and sisters Donna Bergamo, Barbara Johnson, Fred Clark, David Clark, Lynda Woodrow, May Kay Kennedy, Joanne Clark, Doug Clark, and Dan Clark; her dog and faithful companion Lilly.

Funeral services will be held Tuesday December 4, 2012 at 5:00 pm at the Sisson Funeral  Home with Pastor  Scott Bradstreet presiding. Friends may call at the Sisson Funeral Home on Tuesday 12:00 pm  until  time of services. Those wishing an expression of sympathy and asked to consider Mid Michigan Hospice.


Funeral Services will be held Tuesday, December 4, 2012 at 5:00 p.m.
Visitation will be Tuesday from 12:00 until time of service.