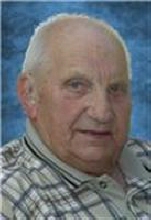 Obituary for Stanley L. Wolfe
Stanley Louis Wolfe, 83, of Gladwin, passed away on Sunday, August 28th, 2011.  He was born March 7, 1928, and lived in Gladwin all his life. He was a strong man of faith and lived every day to glorify his Lord and Savior.  Stan was a faithful member of Cornerstone Baptist Church. He served in many capacities there, and raised his family to serve God. 
         He retired from Robinson Industries and was a member with the Gideon's, Int'l, Farm Bureau, Gladwin Soil Conservation, and is a veteran of the Korean War. 
         He will be dearly missed by his beloved wife, Eleanor (Raese) of  55 years and his two children.  His son, Brian (Kathy) Wolfe, his daughter, Karen (Roger) Welser, and his grand children: Kristen, Lauren, and Logan (Jesse) Wolfe and Rebekah, Nolan, Kal and Cecily Welser and Lyndsey & Cecilia Nickles and Autumn Hamilton.  He will also be missed by his sisters, Dolores Ford, Mildred Wolfe, Viola (Larry) Giegler, and Joan (Al) Rau, and many nieces and nephews.
     He was preceded in death by his parents, Adolph and Augustena Wolfe, his
brothers, Gordon and Norman Wolfe, and his sisters, Loraine and Margaret Wolfe.
     Friends may visit with the family on Wednesday, August 31st from 2-8 pm at
Sisson Funeral Home, Gladwin. Funeral services will be held at the Cornerstone Baptist
Church, 3925 Round Lake Road, Gladwin, on Thursday, September 1st at 11:00 am.
    In lieu of flowers, memorial contributions may be made to the family and will be donated to the charity of their choice.
Read More