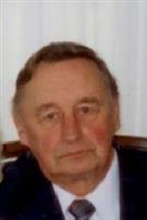 Obituary for Thaddeus S. Tucholski
Thaddeus S. "Ted" Tucholski

Gladwin, Michigan


Mr. Tucholski 83 passed away Sunday August 17, 2014 at his home following a lingering illness with his loving family at his side. He was born in Detroit on March 10, 1931 to the late Stanley & Frances (Stemczynski) Tucholski. He married the former Wanda Dembinski on June 28, 1952 at St Hyacinth Catholic Church in Detroit, she survives him. Ted was a retired tool & die designer working for the U. S. Government during the Korean War and then Ford motor company and a member of St. Mark Catholic Church of Warren. They moved to Gladwin in 1992 where he enjoyed his love of nature while relaxing on his porch, reading a good murder mystery, woodworking, and his doodling

Surviving besides his wife of 62 years are their children Kathleen & Greg Hughes, Paul M. Tucholski, Mark & Sue Tucholski and Eric & Peggy Tucholski; 6 grandchildren and 2 great grandchildren; a sister Hedwig Jerzowski.

A family gathering will be held September 6, 2014 at 1 pm at the family's home on Chapel Dr. Gladwin with a memorial Mass in Detroit at a later date with inurnment in St. Elizabeth Cemetery, Marlette, Michigan. Arrangements were entrusted to Sisson Funeral Home.