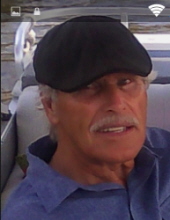 Obituary for Thomas C. Shaw
Thomas C. Shaw
Beaverton, MI

Thomas C. Shaw of Beaverton peacefully passed away on December 19, 2016 with his loving wife Jolita (Joey) Shaw of 32 years by his side. Thomas was born September 10, 1938 and worked for Gerace Construction before retiring to enjoy many hobbies including gardening, wood working, poker, stumping family with puzzles and riddles, keeping company with his Amish friends, riding his Harley, spoiling his grandchildren with handmade wooden play castles to miniature ponies and spending time entertaining friends and family which he truly loved. He belonged to Mensa and Fraternal Order of the Eagles. During the winter months you could find Tom in his favorite place in Florida frequenting karaoke night, fishing by the ocean, golfing, playing cards and going to yard sales. When he finally would sit down to catch his breath, he would utter his daily motto "just another day in paradise" with that famous grin. Tom lived a fulfilled life and celebrated each and every day with passion and love.
Tom is survived by his wife the former Jolita Michalak whom he married on July 8, 1984 in Cadillac, his sons Greg (Yvette) Shaw, Patrick (Carmen) Shaw daughters Tracy (Don) Chandier, Angela (Craig) Mira 13 grandchildren, two great grandchildren his brother Dave (Delores) Shaw, Dennis (Kathy) Shaw and sister Betty Delaney. Besides his parents he was preceded in death by brothers and Sister Calvin, Wanda and Doug Shaw. A celebration of Tom's live will be held on January 7, 2017 at 1:00 PM at the Fraternal Order of Eagles #3655 Aerie, 1380 Estey Road, Beaverton, MI 48612.
Read More