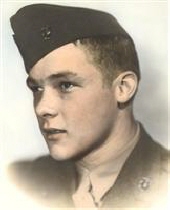 Obituary for Thomas F. Sloan Jr.
Thomas F. Sloan Jr., age 83, of Gladwin, MI, passed away on Saturday, October 02, 2010, at his home surrounded by his loved ones.  He was born February 26, 1927 in Detroit, MI, the son of the late Thomas F. Sr. and Theresa (Sharette) Sloan.
Thomas married Bernice (Mijewski) Sloan on August 27, 1949 and they moved to Gladwin in December of 1957.  He was a Veteran of the United States Marine Corp. during WWll and a member of the Knights of Columbus #5280.  He enjoyed hunting, fishing, trapping, spending time with his family and friends and was the world's greatest story teller.  He worked for 10 years for Detroit Edison and then he worked for Dow Chemical for 29 years.  The family would like to give a special thanks to his wonderful caregivers, Linda, Evelyn, Sylvia and Janice.
He was preceded in death by his sisters Virginia and Peggy.
He is survived by his wife of 61 years Bernice Sloan of Gladwin, MI.  His children; Thomas Sloan of Tucson, AZ; Theresa (Richard) Garber of Venice, Fl; John (Karen) Sloan of Venice, Fl; Patrick (Debbie) Sloan of Middlebury, IN; Joseph Sloan of Wareshoals, SC; Christine (Patrick) Schlicksup of Camp Grove, IL; Mary Sue (Steve) Hill of Gladwin, MI and Kate (Marty) Zelt of Gladwin, MI.  21 grandchildren and 13 great grandchildren.
A funeral Mass will be recited on Wednesday, October 6, 2010 at 11:00 A.M. at Sacred Heart Catholic Church.  Visitation will be held on Tuesday, October 5, 2010 from 2-8 P.M. with a Scripture Service held at 7:00 P.M. at the Sisson Funeral Home, Gladwin, MI.  Interment will be in Sacred Heart Catholic  Cemetery.
Memorial Contributions may be made in memory of Thomas to Mid-Michigan Hospice.
Read More