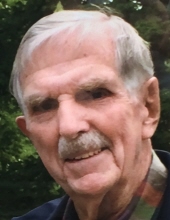 Obituary for Thomas J Hendricks
Thomas J. Hendricks died quietly at home, in the beautiful woods surrounding Island Lake, in Gladwin County, with his children by his side.
He was born on January 31, 1929 to Ruth Noreen and Thomas A. Hendricks in Flint Michigan. Thomas married his high school sweet heart, Jerrie Lou Lucas. They married for 28 years and together they had five children: Thomas, Terrie, Todd, Tim, and Trent. Thomas was born to serve other people. He fulfilled God's purpose for his life with many years in public service and was a man of true generosity.
Born of a poor family, he learned the value of hard work and that nothing came free. From early childhood he and his younger sister, Marcy, were raised by their grandparents on a farm in Genesee County.
Following high school Thomas worked at Chevrolet and other manufacturing jobs, until be become the Chief of Police in Linden, Michigan.
Thomas sought a career move and was sworn in as a Patrolman with the East Lansing Police Department in 1959. While working in law enforcement and as a finish carpenter, he continued his education. He completed his Bachelors and Masters Degrees in Criminal Justice from Michigan State University. After a thirty one year career with the City of East Lansing, he retired as Chief of Police in 1991.
After retirement he moved to Island Lake in Gladwin County. He turned a hunting cabin into a beautiful home. He enjoyed the people of Gladwin and made Island Lake his home.
Thomas is preceded in death by second wife, Diane (Holtkamp) Hendricks, two sons, Tim and Trent Hendricks, his parents Ruth York and Thomas A. Hendricks and his step-brother Russell York. He is survived by a sister Marcelene Nelson and step-brother Robert York; his children Thomas (Patty) Hendricks, Terrie (Thomas) Boggus, Todd (Bonnie) Hendricks, Justin (Ann Marli) and Tim (Ann Marie) Holtkamp. Also surviving are his grandchildren: Leah, David, Anthony, Jessica, Michael, Kaylynn, Kayla, Hanna, and Logan, Seven great grandchildren and many loving nieces and nephews.
A celebration of Dad's life will be held Thursday, August 24, 2017, 11a.m., Gorsline Runciman Funeral Homes, 1730 East Grand River Avenue, East Lansing, MI. In lieu of flowers, those wishing to make a donation may do so to The Hundred Club of Greater Lansing, 3315 S. Pennsylvania, Lansing, MI 48910 or Heartland Hospice of West Branch, 564 Progress Street, West Branch, MI 48661.
Read More
Previous Events
Service
Gorsline-Runciman East Chapel
1730 E Grand River Rd
East Lansing , MI 48823