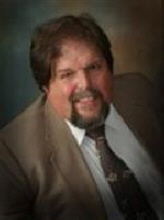 Obituary for Thomas James Kerrins
Thomas James Kerrins, 53, of Traverse City (formally Gladwin and Carsonville), passed away suddenly Saturday, January 25, 2014.

He was the beloved son of Margaret June Kerrins-Potter and the late Thomas Rex Kerrins, born on March 26, 1960 in Yale, Michigan. Tom graduated from Carsonville-Port Sanilac High School in 1978 and received a degree in Criminal Justice from Mid-Michigan Community College.

Tom moved to Gladwin and worked at the Standish Maximum Correctional Facility for over 20 years as a corrections officer. Tom, or "Tommy" as his co-workers knew him, was passionate about his work and workers' rights. He held the position as union representative for many years. He also ran for public office to share his passion.

Tom was a member of the Sacred Heart Catholic Church in Gladwin, Michigan, and was a published author of "The True Story of Jesus the Christ". He was a devoted father and grandfather, and had a love for genealogy that he shared with his family. A great sense of humor, and the devotion to family and God are what mattered most to Tom.

Tom is survived by his mother, M. June (Ronald) Potter of Carsonville, his four children: Melanie Hrabovszky, of Gladwin; Katie (Jason) MacInnis, of Gladwin; SSG. Dustin (Jennifer) Kerrins-U.S. Army, of Colorado Springs; Cassandra (David Martin) Kerrins, of Traverse City, and a step-daughter; Nikki (Shawn Dunn) Almond of St. Helen. Also survived by seven grandchildren: Nathan and Shelby Kotyk; Hunter, Conner, Christian, and Arabella MacInnes; and Avalon Kerrins.

In lieu of flowers, the family is requesting that donations be made out to Cassandra Kerrins of Traverse City, MI to help cover funeral expenses.

The funeral will be held at 11 AM on Saturday, February 8, 2014 at the Sisson Funeral Home located at 135 N Silverleaf St, Gladwin, MI 48624, with a luncheon following at the Church of Christ located 425 E Grout St, Gladwin, MI 48624.


Saturday February 8, 2014 from 10 to 11 am
Celebration of Life service at 11 am Sisson Funeral Home.