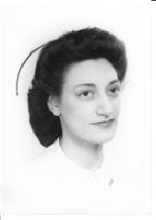 Obituary for Tina M Lennon
Lennon, Tina M.
Gladwin, Michigan

Beloved mother and grandmother passed away Friday, March 23, 2012 at Mid-Michigan Medical Center, Gladwin, age 90. The daughter of the late Vincent and Rosemary (Santa Paulo) Capizzo, Tina was born March 26, 1921 in Detroit, the 3rd of 11 children. She attended grade school at Our Lady of Perpetual Help and graduated from St. Charles High School in Detroit. She was employed by the Immaculate Heart of Mary sisters as a housekeeper at St. Charles parish and also worked at Eastern Market Candy and Spices packing peanuts and as a cashier. She then worked as a file clerk for a hardware chain also in Detroit. Shortly after the 2nd World War began, Tina began working at a paper packaging plant in Detroit called Osalid. Her Aunt Margaret then persuaded her to go into nurse's training which she started in 1944 at St. Mary's Hospital in Detroit. She was in nurse's cadet corp training for 3 years and became an RN in 1947. Tina was then employed at Marine Hospital near Jefferson Avenue where she worked about 6 years, then did private duty nursing for several patients in the area. She met Johnnie C. Lennon while visiting a former classmate in Gladwin. They were married June 2, 1951 and made their home in Gladwin. She was employed at the hospital in Gladwin for many years as well as working at the hospitals in Clare and Midland. Before retiring she also worked in a nursing capacity at Gladwin Nursing and Rehabilitation and at the Pines. Tina was a devout Catholic and member of Sacred Heart Church in Gladwin for many years.

Surviving are 2 sons and 2 daughters, Christopher and Julie Lennon, Gladwin; Paul and Rosemary (Lennon) Bohn, Hemlock; Thomas and Margaret Lennon, Midland and Carol Lennon also of Gladwin. She was predeceased by son Michael on July 2, 1976. Also surviving are grandchildren John Lennon; Kristin, Michael and Brenden Lennon and Danielle (Lennon) Schrock; Daniel and Joshua Bohn. Surviving siblings are Frank, Sister Mary Ann, Margaret (Capizzo) Herman, Vincent and John Capizzo and many nieces and nephews. Besides her parents and youngest son she was predeceased by siblings Joseph, Sister Mary Rose, Samuel, Agnes and Anthony Capizzo.

A funeral mass will take place Monday, April 2nd at 11 a.m., Sacred Heart Catholic Church, 300 N. Silverleaf, Gladwin. Father John Cotter will officiate with burial at Sacred Heart Cemetery, Pratt Lake Rd, Gladwin. Tina requested cremation with no viewing. Those planning an expression of sympathy may wish to consider the American Cancer Society, Sacred Heart Church or the charity of their choice. No flowers please.
Read More