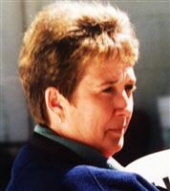 Obituary for Trudy Jean Barshaw
Trudy Jean Barshaw



Beaverton, Michigan

Mrs. Barshaw 60 passed away Friday April 12, 2013 at Mid-Michigan Medical center-Midland following a brief illness. She was born in Midland on February 21, 1953 to the late Leo J. Sr. & Geraldine (Thompson) Trumble. She married Dennis J Barshaw on July 4, 1980 in Billings Twp., he survives her. Trudy was a member of the Billings Bible Church, Eagles 3655 and the Estey Moose Lodge. She was co-owner of the Freeman Well Drilling Company. Trudy enjoyed life living with the outlook of "Faith, Family & Friends". As she will be remembered for caring for people & family, love of cooking and visiting with friends and family in conversations or a phone call.



She is survived by her husband Dennis of 32 years, her children Nadine Durbin-Trumble, Mark (Stacey) DeMoines II, Jodi Shaffer and Dennis Jr. (Angie) Barshaw; 8 grandchildren Jennafer Tipton, Jade Durbin, Mark DeMoines III, Evan Shaffer, Seth DeMoines, Luke DeMoines, Derek Shaffer and Todd Barshaw; 2 sisters Dianne (Larry) Sivak, and Sharon (Arch) Mitchell and a brother Leo II (Heidi) Trumble; also many nieces & nephews and many special friends and family.



Funeral Services will be held Wednesday April 17, 2013 at 1 pm from Sisson Funeral Home with Pastor Tyler Leigeb presiding with inurnment in Billings Township Cemetery. Friends may call at the funeral home on Wednesday from 11:30 am until time of services. Those wishing an expression of sympathy are asked to consider the Bible Baptist Church or a charity of your choice.




Wednesday April 17, 2013 11:30 am to 1pm services at Sisson Funeral Home.