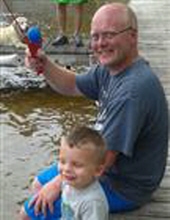 Obituary for Warren Chester Haught
Warren Chester Haught III

Gladwin, Michigan


Warren " Chester" Haught III, age 30, passed away on Monday, June 13, 2016 at his home in Gladwin. Chester was born on September 5, 1985 in Mt. pleasant, Michigan. He is survived by his parents Warren Junior Haught and Ronda (Holley) Haught, sister Amanda Haught Henderson (Nicholas Henderson) of Affton, Missouri, grandparents Sharla (Walton) Peffer of Mt. Pleasant, Bobbie James Holley, Sally (Sibbald) Holley of Gaylord, his niece Keely Marie Henderson of Affton, Missouri, his nephew Caedyn Michael Holley of Mt. Pleasant and many aunts, uncles and cousins.

Chester grew up in Gladwin and graduated from Ogemaw Heights High School in 2004. He participated in wrestling, basketball, baseball, but was best known for his football abilities. After graduation he served 4 years in the United States Navy and then went to work for the Pipeliners local Union #798 based in Tulsa, Oklahoma. Chester had a passion for fishing and especially with his niece Keely and nephew Caedyn. His other passion was mushroom hunting. During the mushroom season he was out picking mushrooms every opportunity he could get.

Chester was preceded in death by his sister Meggan Marie Haught, grandparent's Warren Pearl Haught, Colleen (Powell) Haught, and Clifford Peffer.


Funeral services will be held Monday June 20, 2016 at 4 pm from the Sisson Funeral Home with Pastor Tony Reynolds presiding. Family will greet friends at the funeral home from 1 to 4 pm. Those wishing an expression of sympathy are asked to consider the wishes of the family



Funeral Services will be held on Monday, June 20, 2016 at 4:00 PM
Visitation will be held Monday from 1:00 PM until the time of service.