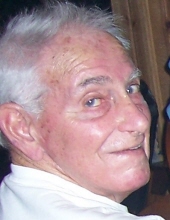 Obituary for William Bill Graves
William Aaron LeRoy Graves

St. Helen, Michigan

Formerly of Beaverton, Michigan

Bill, 80 years of age, peacefully entered into the glory of God"s Kingdom, Thursday July 14, 2016 at Mclaren Bay after a brief illness with his family and his pastor Brenda Smith at his side.He was born the son of the late Francis & Lucille Belle (VanSickle) Graves in Beaverton on April 23, 1936. Bill married the love of his life, Sharon K. (Bentley) Graves October 5, 1959 in Gladwin.
His memory will be forever cherished by his loving wife of 56 years, Sharon Graves of Saint Helen, their children Kristi Graves of Saint Helen, Barry & Judi Graves of Beaverton, David Graves of Illinois, and Kimberly & Dan Albergo of Beaverton; grandchildren Jason, David C., Trisha, Logan, Connor, Chantell, Tasha, Aaron and David; 2 great grand children; 3 sisters Bonnie Burgess, Betty Mavis and Beverly Torrez. He was preceded in death by a sister Ruth Ann Atkinson and a daughter in law Cindy Graves. Bill was a heavy equipment operator and worked for several companies in Saginaw before his retirement. Above all, Bill was a family man with a special adoration for his many dogs. He also enjoyed hunting and fishing, his gun collection, and reloading shells.
In honoring Bill's wishes, cremation is taking place and a small memorial celebration of his life will be scheduled for a later date.
Those wishing to send an expression of sympathy, in lieu of flowers, are asked to mail contributions to: Sharon Graves, 7240 Pine Rd, P.O. Box 467, St. Helen, MI 48656.

Daddy,
I whispered in your ear
As we said our last good-byes
I'll meet you beyond the moon and stars
All in God's own time.
You hold our hearts forever.

We love you and you will be missed.