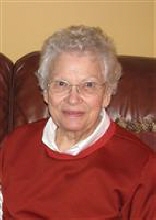 Obituary for Winifred Louise Welser
Winifred Louise Welser, 86, beloved wife, mother, grandmother, great-grandmother and sister was called home on Friday, May 06, 2011, to be with her Lord and Savior after a short illness. 
Winifred was born on March 4, 1925 in Gladwin to Daniel and Martha (Bollert) Soldan.  She graduated from Gladwin High School in 1943.  Winifred met the love of her life, Robert Welser in 1947 and they were united in marriage on June 13, 1948.  Bob and Winifred celebrated their 50th wedding anniversary in 1998 by renewing their vows in front of family and friends at her childhood home where they were originally married.    Winifred was a devoted mother to her five children.  Summers were spent making memories at the family cottage on Pratt Lake.  She was a wonderfully talented seamstress and quilter and enjoyed time spent with Needles and Jaws and The Log Cabin Quilters creating prized masterpieces for her family.
Winifred was a member of Our Savior Lutheran Church.
Winifred was preceded in death by her parents, 2 brothers, Max Soldan and Robert Soldan and her sister, Ruth Patenge. 
She is survived by her husband of 63 years, Robert, and children, Diana Ariel (Shmuel) of Jerusalem, Israel; Fred (Sandy) of Portage; Matt (Marcia) of Guatemala; Paul (Laurie) of Morehead City, NC; and Roger (Karen) of Midland.    Also surviving are 15 grandchildren, 19 great-grandchildren and one on the way, a brother, Howard (Erna) Soldan of Diamondale, MI and sister-in-law, Irene Malosh of Gladwin. 
A memorial service will be on Thursday, May 12 at 11:00 a.m. at Our Savior Lutheran Church with Pastor Matthew Schultz officiating.  Arrangements were entrusted to the Sisson Funeral Home, Gladwin, MI.
Memorials may be directed to Our Savior Lutheran Church or Mid-Michigan Hospice.
Read More